Transform Your Tactic: Gamify Goals, Guide Greatness, Glean Growth.
Agency Toolchest amplifies your KPIs and reporting capabilities, providing a clear roadmap for your agents' success. Harness the synergy of sales gamification and targeted coaching to push beyond limits.
Empower Agents. Achieve Metrics. Celebrate Wins. Your next-level agency begins with insights that drive action.
Key features
The many features of Agency Toolchest may assist you in running your organization.
Analytics
Get a better understanding of where your revenue is coming from.
Engagement
Inspire your team to perform better by using gamification and letting them contact with each other on live chat.
Chrome toolbar
Easy tool to gather the information you need to track the growth of your Agency.
Marketing
Track your lead sources, determine best-selling areas by zip codes, beat your competitors
Boost employee output by providing constructive feedback and coaching
Determine who among your employees is the best and who needs more of your care. Use a clear dashboard to compile and analyze your organization's quotes data for the sake of growing your business.
AgencyToolchest uses gamification methods and advanced analytics and helps organizations achieve revenue goals by giving hints for staff training, adding fun and competition for an engaging experience. In addition to keeping your team on task, gamification is a terrific method to keep your agents entertained, motivated, and interested in their work.
"With the dashboard data and rankings I was able to spot problems within my agency and fixed them right away - the revenue went up insanely!"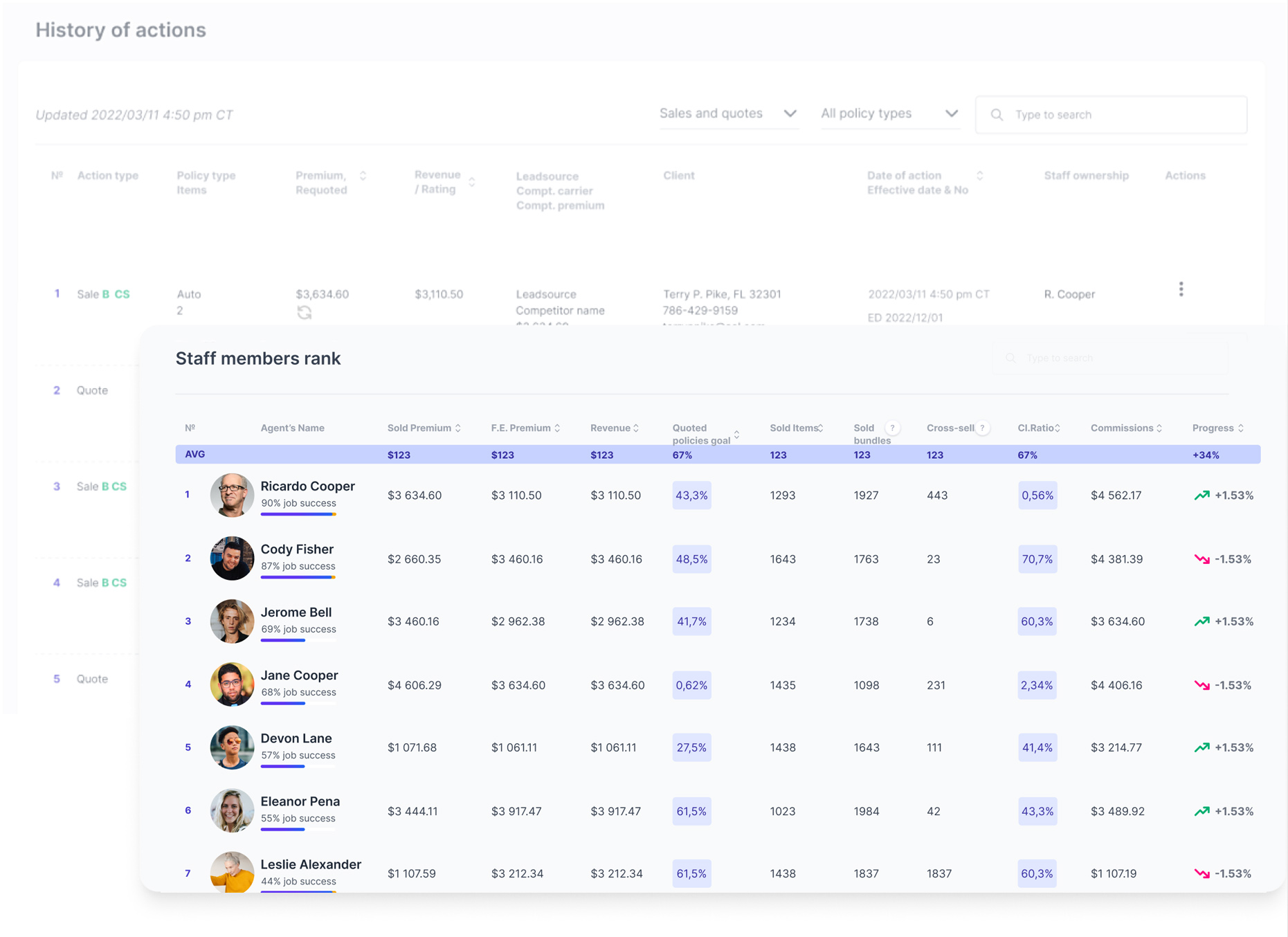 View your real-time success in reaching your goals
Work with the Chrome extension that enables you to view your current ratings and motivates you toward your goals by entering quotes and sales into the toolbar. Our specialized, thoughtfully-designed dashboard excels at keeping track of how you are performing as a team member, and gives you the support and encouragement you need to keep up your game in the heat of battle.
"Since using AgencyToolChest toolbar I feel more motivated to achieve my goals. I love seeing my progress throughout the month"
Pricing plans
Choose an affordable plan that's packed with the best features for engaging your staff members, driving sales and boosting your revenue.
Annual plan
$1749 /year
Get amazing possibilities for coaching your staff
Collect quotes data with the Chrome Extension Toolbar

Access all coaching and quality insights via the Dashboards

Track the success rate of bundling efforts
Cross-selling tracking

COMING SOON!

Boost morale with gamified targets and celebratory alerts.

Interoffice messaging: Share Texts & GIFs
Set and oversee individual staff goals and activity

Oversee agency-wide goals

Retrieve detailed reports on quotes and sales

Identify and monitor the most effective lead sources

Tailor coaching based on the source of the lead

Zip code competitivness tracking

COMING SOON!
Buy now!
Coach your staff better.
Boost your income.
When we assist you motivate your staff to perform at their highest levels, you can expect to see improved results and rise to the top of your industry.
Gamification is a great way to motivate and inspire your employees to do better.
Register now
Do you need help?
Reach us anytime via e-mail, phone, or Chrome Extension chat for registered users. Quick, reliable support is just a click or call away whenever you need it.